Simon Phipps has conducted most of the professional orchestras in Sweden including the Swedish National Orchestra, the Gothenburg Symphony. His choir Simon Phipps Vokalensemble has established itself as one of Sweden's finest and has won prizes in many international competitions, most notably at the prestigious festival in Marktoberdorf, Germany, (May 2005)  where they were awarded first prize and a special prize for best programme. The choir was elected Choir of the year 2006 in Sweden, and took the Grand Prix as well as four other first prizes at Florilège vocale de Tours in France in 2007. Since Autumn 2007 the choir has adopted the name of The Swedish Chamber Choir.
Simon was born in London and received his early musical training as a chorister at New College, Oxford. He took his B.A. as a Choral Scholar at King's College, Cambridge and went on to study singing at the Guildhall School in London. Conducting studies in Munich and Manchester followed and he made his professional debut at the Gothenburg Opera in 1985.
The next ten years were largely devoted to opera with engagements at Sadlers Wells and English National Opera in London, Krefeld in Germany, and Malmö in Sweden . In 1994 Simon Phipps moved to Sweden and has since then lived in Gothenburg. Although opera is still an important feature of his career (since 2003 he has been the Artistic Director of Läckö Opera Festival and in November 2005 he conducted the Scandinavian premiere of Britten's Paul Bunyan in Gothenburg) orchestral and choral work is now equally important.







Britten: War Requiem

 "….But the result was in fact enormously impressive, thanks above all to the conductor and the soloists…."  (Göteborgs Posten)­.

Read full review.

 

Wagner: Siegfried Idyll /  Copland: Appalachian Spring

"Phipps' clear and distinct beat, without any extravagant gesture, gave a restrained and noble interpretation, achieving balance and transparency rather than schmaltz…such unsentimentally beautiful Wagner!..."

 

"Appalachian Spring is…a loosely structured rhapsody whose constituent parts do not necessarily cohere., but they did in Simon Phipps' hands…..Phipps enjoyed a musicianly triumph here: this was more polished and sensual Copland than I have heard for a long time…..People of his calibre are worth their weight in gold, and then some."

Read full review.

 

Cimarosa: Il matrimonio segreto

" An extra eulogy to the conductor Simon Phipps, who makes the Musikhögskola's symphony orchestra play with bravura and elegance"

 

Alban Berg: Chamber concerto

"The performance was definitely high class, the soloists and orchestra displayed both sensitivity and virtuosity, excellently conducted by Simon Phipps. This conductor combines in an interesting way tension and relaxation, exuding calm but creating precision. He made the ensemble play as a perfectly integrated unit in Ida Gotkovsky's Poème de feu, where the musik glowed like a huge welding torch".

Read full review.

 

Mozart "Cosi fan tutte"

"Unavoidably one's attention is drawn to the orchestra pit, where the music theatre's young orchestra under Simon Phipps – a pupil of Harnoncourt but no fundamentalist -  plays Mozart with quite exceptional beauty, sensuality and expressiveness, and exceptional in terms of decades rather than years. One can only congratulate the Malmö audience."

Read full review.

 

Puccini: Tosca

"This was combined with, disregarding a few slips in the flute in all the  impressive performance of the orchestra, which the young conductor Simon <Phipps lead with enormous mediterranean bravoura despite his English origins. The Englishman had also a natural feel for all the small sighs, sobs and spinto outbursts. The singers and audience thanked him with tumultuous applause."

Read full review.
Johannes Brahms, Geistlich und weltlich.



Francis Poulenc, Sacré et Profane.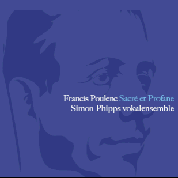 Benjamin Britten, Sacred and Profane.



Och när snön faller vit.




Orchestral


Alfvén                                 Midsommarvaka

 

Bartok                                Concerto for orchestra, Dance suite, Rumanian dances

 

Beethoven                         Symphonies: 1, 3, 4, 5, 7, 9

                                            Overtures: Egmont, Fidelio, Coriolan

                                            Piano concertos:  1, 3, 4, 5

 

Berlioz                                Symfonie fantastique

                                            Overtures: Carnaval Romain, Béatrice et Benedicte

                                            Les nuits d'été

                                            L'enfance du Christe

 

Bizet                                   Jeux d'enfants

                                            Suites: L'Arlèsienne, Carmen

 

Brahms                              Symphony 2

                                            Academic festival overture

                                            Serenade 2

                                            Concerto for violin and cello

                                            Piano concerto  2

                                            German Requiem

 

Britten                                Four sea interludes from Peter Grimes

                                            Variations on a theme of Henry Purcell

                                            Serenade for tenor, horn and strings

                                            Simple symphony

                                            War Requiem

                                            St Nicholas

 

Debussy                             Nocturnes

                                            Prélude à l'après-midi

 

Dvorak                               Symphonies: 6, 8, 9

                                            Symphonic variations

Overture: Carnaval

                                            Cello concerto

 

Elgar                                   Enigma variations

                                            Overtures: In the South, Cockaigne, Froissart

                                            Cello  concerto

                                            Introduction and allegro

                                            Serenade for strings

                                            Dream of Gerontius

                                            The music makers

                                            Marches: Pomp and circumstance 1, 3

 

 

 

Gershwin                            Rhapsody in Blue

                                            American in Paris

                                            Cuban overture

 

Gorecki                               Symphony 3

 

 

Grieg                                   Peer Gynt (complete)

                                            Norwegian dances

                                            Piano concerto

 

Haydn                                 Symphonies: 6, 7, 8, 22, 49, 80, 92, 96, 104

                                            Cello concerto (C)

 

Hindemith                          Mathis der Maler

                                            Konzertmusik for Brass and Strings

 

Holst                                   The planets

                                            St Pauls suite

 

Larsson                              Förklädd Gud

 

Mendelssohn                     Overtures: Hebrides, Ruy Blas, Midsummer night's dream

                                            Violin concerto

                                            Elijah

 

Mozart                                Symphonies: 25, 29, 34, 35, 38, 39, 40

                                            Eine kleine Nachtmusik

                                            Overtures: Figaro, Entführung, Idomeneo

                                            Piano concertos: K 453, 466, 467, 491, 595

                                            Violin concertos: K 211, 219

                                            Exsultate jubilate

                                            Mass in C minor

 

Mussorgsky                       Pictures at an exhibition (Ravel)

                                            Night on the bare mountain

                                            Trepak

 

Nicolai                                Overture: The merry wives of Windsor

 

Nielsen                               Aladdin, Fynsk vår

 

Orff                                     Carmina Burana

 

Poulenc                              Piano concerto 2

                                            Aubade

                                            Babar

 

 

Prokofiev                           Peter and the wolf

                                            Romeo and Juliet: suites

                                            Love of three oranges: suite

 

 

Rachmaninov                    Piano concerto 2

                                            Rhapsody on a theme of Pagannini

 

Rautavaara                       Cantus arcticus

 

Ravel                                  Mother Goose: suite

                                            Pavane pour une infante défunte

                                            Boléro

 

Rossini                               Overtures: William tell, Barber of Seville, Italian girl

 

Saint Säens                       Le carnival des animaux

 

Shostakovich                    Symphony 5

                                            Piano concerto 2

                                            Cello concerto 1

                                            Violin concerto 1

 

Schubert                            Symphonies: 5, 8

                                            Rosamunde: suite

 

Schumann                         Overture: Manfred

                                            Piano concerto

                                            Symphony 1

 

Schönberg                         Chamber symphony 1

                                            Song of the wood-dove

                                            Pierrot lunaire

 

Sibelius                              Symphonies: 1, 2, 5

                                            Karelia suite

                                            Valse triste

 

Smetana                            Moldau, Sarka, Viserad

                                            Dance of the comedians

 

Strauss (R)                         Don Juan, Till Eulenspiegel, Tod und Verklärung

 

Stravinsky                          Petruschka,

                                            Firebird (complete ballet)

                                            Symphonies of wind

                                            Piano concerto

                                            Symphony of psalms

Mass

 

Tchaikovsky                      Symphonies: 3, 4, 5, 6

                                            Romeo and Juliet

                                            Suites: Swan lake, Sleeping beauty, Nutcracker

                                            The tempest

                                            Overture: 1812

                                            Capriccio Italien

                                            Piano concerto 1

                                            Violin concerto

                                            Serenade for strings

 

Vaughan Wlliams             Sea symphony

                                            Flos campi

                                            The lark ascending

 

Wagner                              Tristan: Prelude and Liebestod

                                            Overture: Meistersinger

                                            Siegfried idyll

 

Walton                               Belshazzar's feast

                                            Façade

                                            Johannesburg festival overture

                                            Crown imperial

 

Weber                                 Overtures: Freischütz, Oberon, Euryanthe

                                            Clarinet concertos 1, 2

 

Webern                              Variations for orchestra

 
Opera

Beethoven                         Fidelio

 

Bizet                                   Carmen

 

Boertz                                 Magnus Gabriel

Britten                                Peter Grimes

                                            Rape of Lucretia

                                            Billy Budd

                                            Noyes fludde

                                            Let's make an opera

                                            Curlew river

                                            Paul Bunyan

                                            Albert Herring

                                            Turn of the screw

 

Chabrier                             L'étoile

 

Cimarosa                           Il matrimonio segreto

 

Donizetti                            L'elisir d'amore

 

Gerhard                              The duenna

 

Gershwin                            Porgy and Bess

 

Gluck                                  Alceste

 

Humperdink                                            Hänsel und Gretel

 

Händel                               Serse

 

Hulphers                            Pojken och fåglarna

 

Kühr                                   Stallerhof

 

Menotti                              The medium

 

Monteverdi                        Poppea

 

Mozart                                Die Entführung

                                            Idomeneo

                                            Don Giovanni

                                            Cosi fan tutte

                                            Die Zauberflöte

 

Puccini                               Tosca

                                            La Boheme

 

Purcell                                Dido and Aeneas

 

Rameau                             Platée

 

Reimann                            Lear

 

Rossini                               La pietra del paragone

 

Tchaikovsky                      Onegin

 

Verdi                                   Nabucco

                                            Rigoletto

                                            Un ballo in maschera

                                            Otello

 

Weill                                   Mahagonny

                                            Der Jasager
 
Ballet

Schedrin                             Ana Karenina

 

Stravinsky                          Firebird

                                            Petruschka

 

Tchaikovsky                      Nutcracker

 
 
Operetta/Musical

Berlin                                  Annie get your gun

 

Kalman                              Gräfin Mariza

 

Lehar                                  Die lustige Witwe

 

Millöcker                            Der Bettelstudent

 

Offenbach                          Belle Hélène

                                            Orpheus

 

Sullivan                              Mikado

                                            Gondoliers

                                            Yeoman of the guard

                                            Pinafore

                                            Ruddigore